Parent Support Advisor (PSA)
Your Parent Support Advisor Kam Bhogal at Loddon Primary School, is here to help you.
Your Parent Support Advisor, offering support, help and guidance for parents and families who may need support in improving their child's school attendance, improving child's behaviour, offering workshops, courses, parenting courses or simply access to information.
Contact:
Direct Dial: 0118 207 0210
School office:0118 926 1449
Mobile: 07407145624
Working days: Wednesdays and Thursdays from 8.30am - 4pm
What does a Parent Support Advisor do?
Your Parent Support Advisor is here to offer support, guidance, and a listening ear to parents of school children. The service is confidential and can support you with:
Parental/Family concerns

School lateness/attendance

Behaviour issues

Transition (moving within school and new school)

Emotional well being

Building Parent confidence

Bullying

Child/Parent relationship breakdown

Assist with form filling
How do they do it?
Parent Support Advisors provide support for families in many different ways including:
One to one contact

Meeting with/in school

Parenting courses

Various parenting workshops

Support in referring on to other/more appropriate services

Telephone/text and email
When might you need to contact your Parent
Support Advisor?
"I have a question about parenting"

"I need help getting my children to school on time"

"I would like someone to talk to"

"My child's behaviour is getting out of hand"

"I'm worried my child is being bullied"

"I'm struggling since my partner left, what can I do"?
For more details please view the Parent
Support leaflet below:
Upcoming workshops/courses/events for
parents and carers:
ESOL (English Speaking of Other Languages 12th Jan 20 9.30-11.30

Helping your child with KS2 Maths Autumn 2019
Mindfulness & Mental Health Information
https://maudsleycharity.org/familiesunderpressure/

www.mindfulnessberkshire.co.uk/ why-practice-mindfulness/
https://mentalhealth-uk.org/help-and-information/
https://www.nhsinform.scot/healthy-living/mental-wellbeing
https://s3-eu-west-2.amazonaws.com/mhukcdn/wp-content/uploads/2019/04/29182339/Mental-Health-UK-InfoGuide-English.pdf
https://youngminds.org.uk/supporting-parents-helpfinder/
Health Eating & Be Relaxed and When emotions explodes Parent information: e-books and poster
Nursery and Reception resources
Leading Parent Partnership Award
We are proud to announce that our school has recently been awarded the Leading Parent Partnership award. This is a department of Education endorsed national award, which has provided us with valuable recognition for our commitment to working with the parents and carers of our pupils.
Our vision is to 'work together to realise the potential in everyone' and to this aim we will continue to further strengthen and empower our parents/carers as equal partners in the future.
Raising achievement by involving parents/carers in the work of our school.
Involving yourself in your child's education is an exciting challenge, with excellent benefits for your child, for you, for the school and for the local community.
Research has identified that, at age 7, a parent's influence on a child's learning is six times that of their school and even at 11 years old, it is 29% greater. Increased involvement can raise achievement by at least 18%. No involvement means low or no qualifications at 16.
We are using the Leading Parent Partnership Award (LPPA) to help strengthen our school's partnership with parents. LPPA is a national award that will provide us with a valuable school improvement tool and also give us recognition for our commitment to working with parents.
The LPPA will help us achieve these long-term benefits:
• contribute to improved pupil attendance, punctuality, behaviour and progress
• increase parent participation and involvement
• enhance parents' support in their children's learning
• improve communication between home and school.
If you would like to become more involved or want more information, please contact your PSA.
DATA
Parent Feedback on Induction and Transition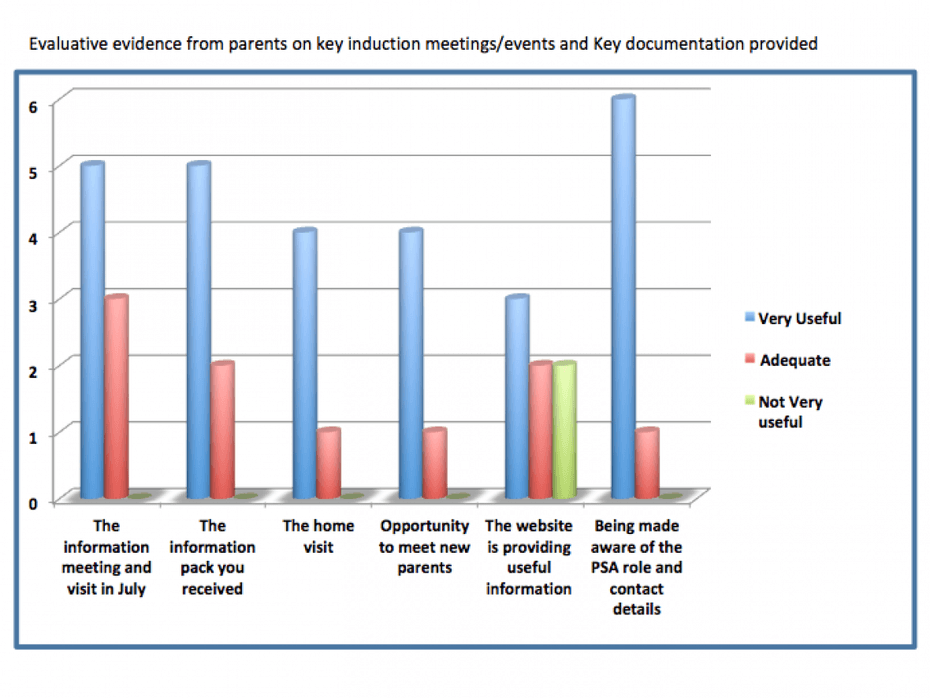 Useful links for parents, carers and families.
Looking for activity or event locally?
Visit the council's 'What's On Guide' where you can search for activities and events in and around the borough.
Parents and carers of children with additional needs will find information on:
Head Lice Information