Recent News
Last updated: 29th April 2021
Click here for newsletters and meeting minutes
Look out for our regular updates on ParentMail and on our Facebook page (@LoddonPTA).
See below for a selection of recent updates.
1st May 2021 – Donate securely anytime via pta-events
From 1st May you can now donate securely to the PTA anytime via our pta-events site [here]. No registration is needed and you can donate an amount of your choosing. For other ways to donate, visit our donations page https://www.loddonprimary.co.uk/pta/raise-money-for-the-pta
30th April 2021 – Dare to be Different – Wacky Hair day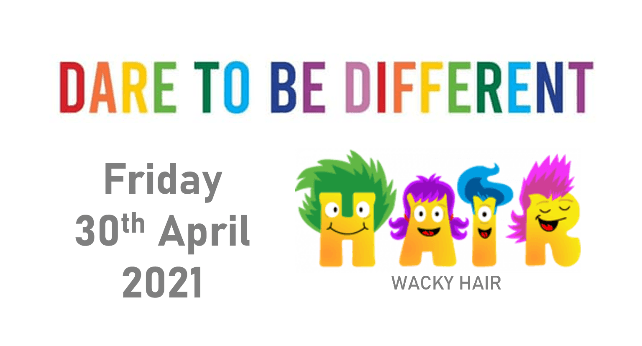 We're inviting all the children to display their wackiest and brightest hair on this "own clothes day" with a difference! Our first "Dare to be Different" day will tie into the upcoming value of the month for May, Confidence.
Fundraising donations would be gratefully accepted if you are able to support the PTA. Click [here] to donate an amount of your choosing securely via our pta-events page (no account registration needed). A walkthrough on how to use the page was sent on ParentMail on 20th April.
2nd April 2021 – Easter update
As we come to the end of a topsy-turvy term we want to shout out a huge well done and thank you to all the parents, teachers and children! While restrictions continue we want to support families and staff by keeping fundraising events to a minimum.
We're very grateful for the support you have shown to the fundraising we have done. We're pleased to announce that the Christmas card fundraising project raised £282, the Christmas raffle raised £215 and the launch of Amazon Smile has raised £68 so far. Thank you.
Have a lovely Easter!
31 October 2020 - Amazon Smile

Parents can now support Loddon PTA via Amazon Smile. Amazon will share 0.5% commission on all qualifying sales made via their smile portal (https://smile.amazon.co.uk ). Sign-in to your account on a browser to select us (Loddon Primary School Parents And Teachers Association) as your chosen cause. You can also shop on the mobile app – just make sure to go to settings and activate Amazon Smile there too. Thanks for your support.
16 October 2020 – PTA Christmas Cards & Gifts Fundraising
See full details in today's Parentmail.
The children have drawn lovely festive artwork. Their designs have now been uploaded to our secure portal at MyChildsArt (https://mychildsart.co.uk/school-login/LoddonPTA/R6A787t2/ ) ready for you to order personalised cards, gift tags, tote bags and much much more.
LoddonPTA benefit from 20% of all product sales made on this portal – we thank you for your support to our fundraising. If you have any problems locating your children's artwork contact My Childs Art directly on email at customerservice@mychildsart.co.uk or at 01530887650.
17 March 2020 – PTA Taking a Break
At this time, we'd like to take a break from organising fundraising to allow our hard-working volunteers (parents and Staff) an opportunity to focus on their own families and loved ones.
We value our volunteers, members, sponsors, suppliers and supporters very much. We feel this action is in the best interest of the School community at this time and of all those who may be affected as events unfold over the next few weeks. More details on Parentmail today (letter also available on our newsletter page).
16 March 2020 – PTA Matchbox Challenge starts

Children received packs in their bookbags today to help them enter our exciting matchbox challenge. Over Easter we challenge the children to fit as many unique items as they can in a small white matchbox. Prizes on offer after Easter for those who can fit the most items, decorate their box the best and the class who raise the most sponsorship. More details on Parentmail today.
26 February – PTA Portrait Tea towels available to order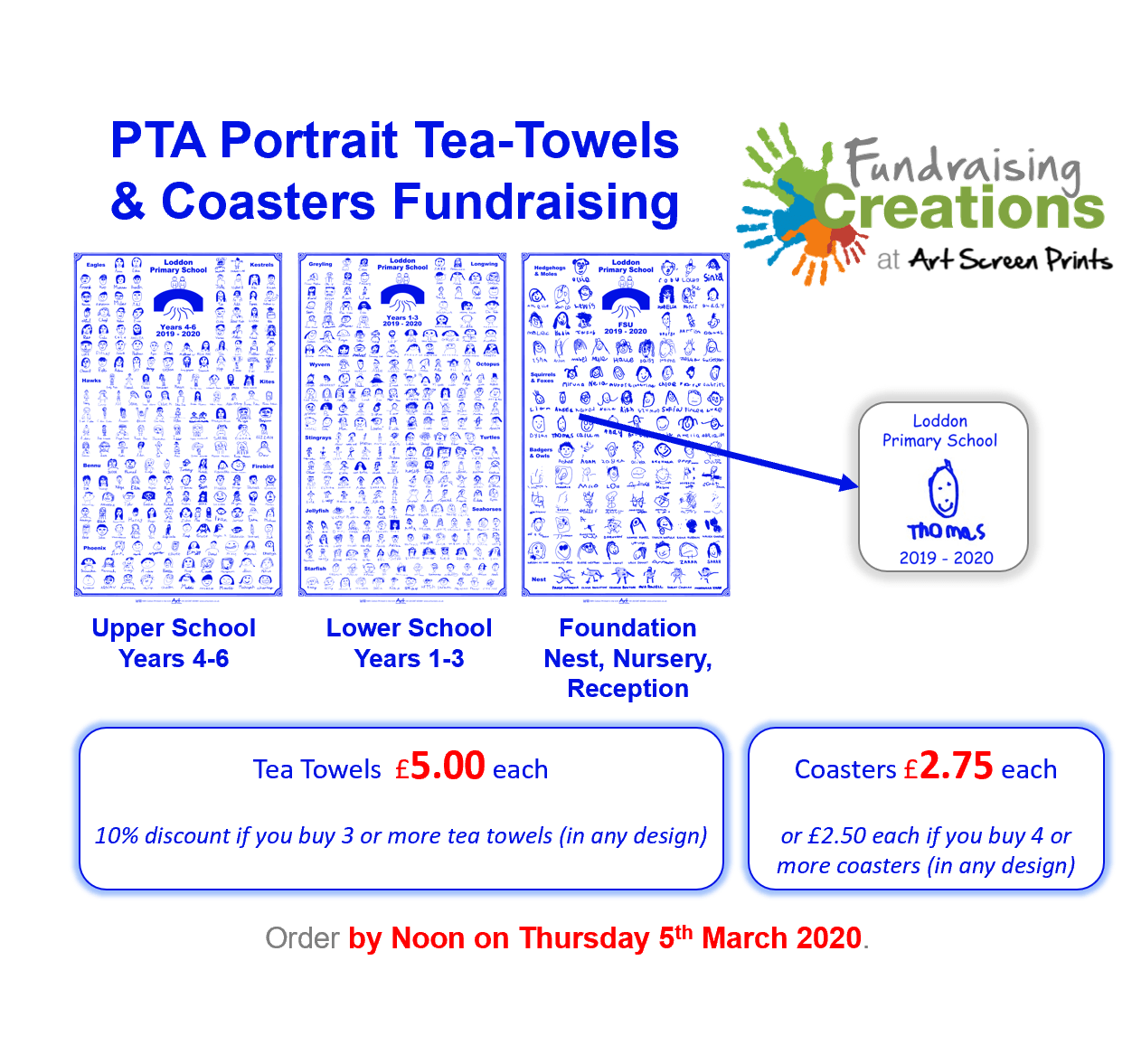 The children have drawn their own portraits – these have formed 3 tea-towel designs which you can now order on our secure platform (www.pta-events.co.uk/loddonpta) for £5. You can also buy individual children's designs on a coaster for £2.75. Discounts available for multiple purchases. Please order by noon on 5th March so we can aim to deliver back before Mother's Day. [Update: We've sold over £1,000 of teat-towels and coasters – thanks for your support!]
14 February 2020 – Bake for Books raises £270 for Year 3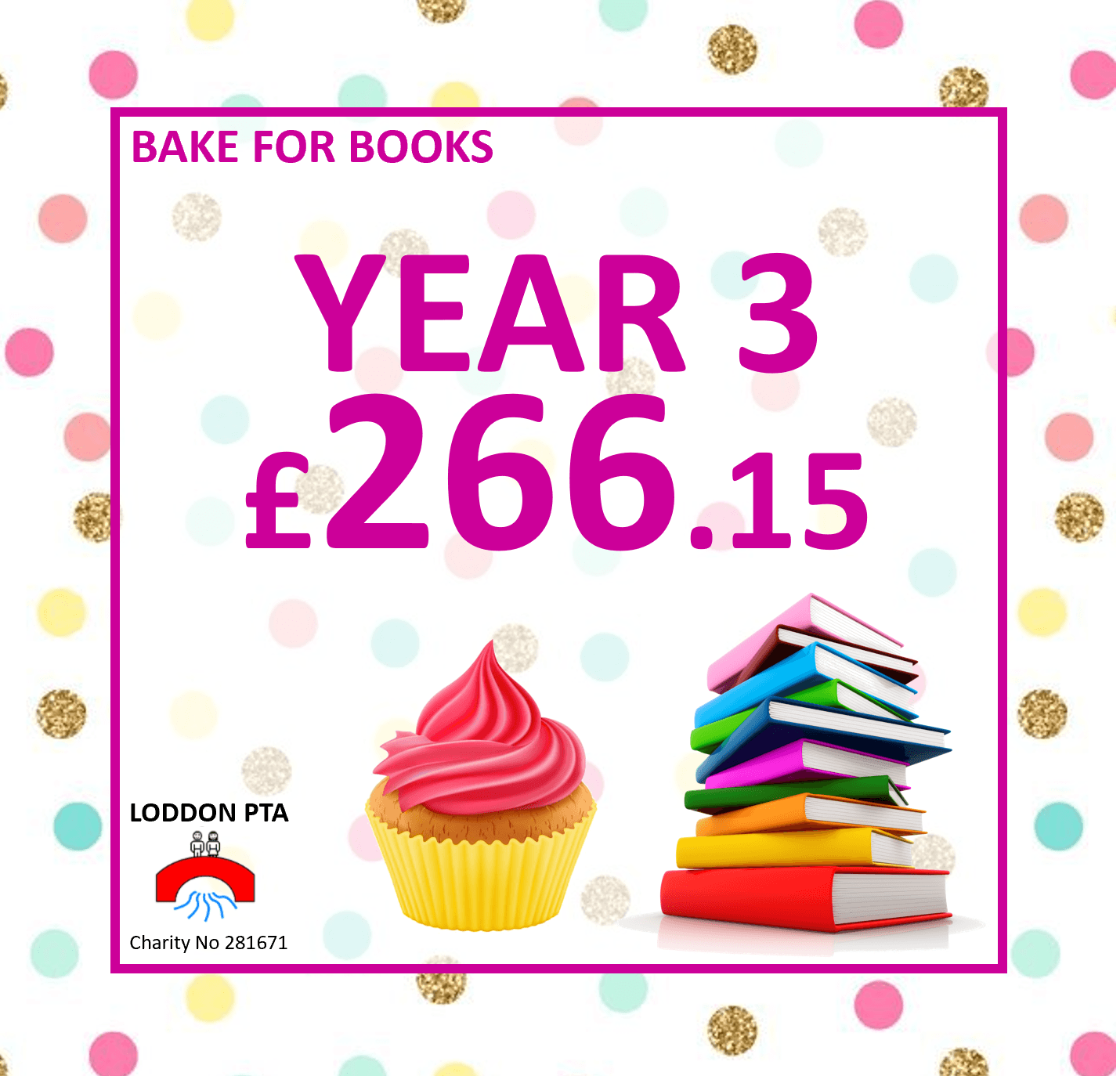 Thank you to everyone who supported the third "Bake for Books" sale today, organised by Year 3 parents. A fantastic £266.15 was raised towards books. The children and teachers will choose what books are purchased at the February inset day.
7 February 2020 – PTA Disney Quiz run by quizmaster Ruth raises over £110
A big thank you to our quizmaster Ruth for a devilishly tricky and fun Disney Trivia Quiz which raised £110 for the PTA. Thanks to the 9 teams who took part and also to Mal's Creations and Anne-Marie Westran for donating prizes.
If you're interested in running an event for the PTA (with our support all the way!) please do get in touch. We're open to ideas and would love to hear from you.
Ps Quiz answers were posted to our Facebook page today
21 January 2020 – Can you help us access Match funding from your employer/business?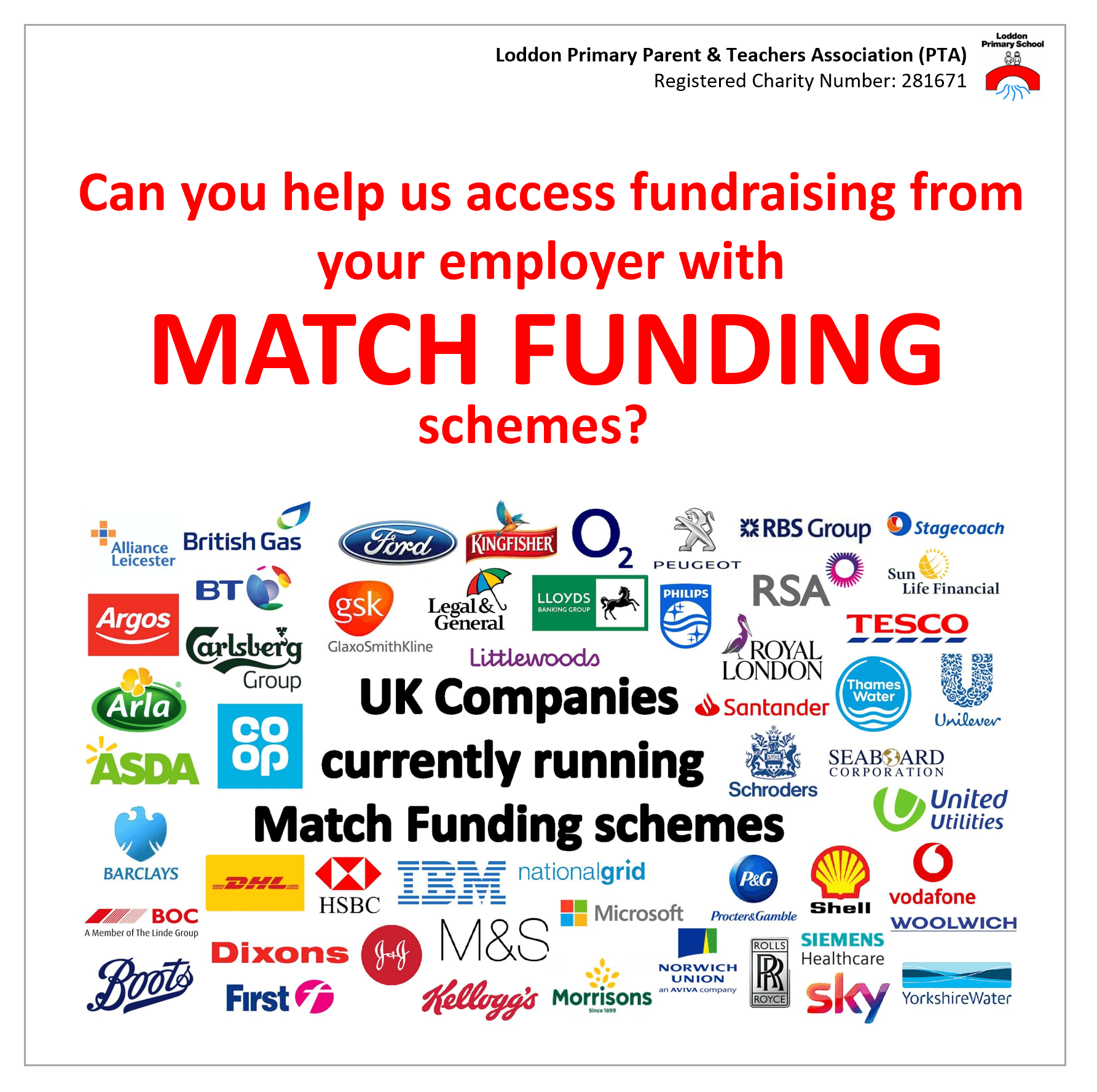 Does your employer offer any matched fundraising schemes? Hundreds of organisations in the UK like Microsoft, Vodafone, Thames Water, Sky will boost fundraising by their employees when they volunteer for charities like ours. More details on Parentmail today. Please get in touch with us to see if we can work together to unlock that extra fundraising potential.
16 December 2019 – PTA Hamper Raffle and concert event

And… that's a wrap for 2019! Thank you to everyone who helped make the PTA Hamper raffle a success and helped us raise over £1,000 profit for the PTA.
Mrs Wright and the School choir shared a brilliantly festive performance to open up proceedings. We hope you all had a chance to look at the fabulous hamper designs that were on display. Well done in particular to Y1 Jellyfish (1st), Y6 Eagles (2nd) and Y3 Greylings (3rd) classes for being selected as our top 3 hampers and winning class prizes.
A full list of hamper raffle winners was published on Parentmail and Facebook.
16 December 2019 – Reindeer visit Loddon Primary

Each December the PTA fund a whole school activity. In December 2018 it was a Christmas market and this year, as a special treat, the reindeer from Riverways Farm have visited the School. Each class had an opportunity to see the reindeer up close, feed them and learn more about them.
05 December 2019 – Pyjama Party
54 foundation stage children enjoyed a wintry pyjama party. The party included biscuit decorating, party games and story time. Thank you to everyone who volunteered their help on the day or with lights, biscuits and supplies!
02 December 2019 - Bake for Books raises £155 for F2 Reception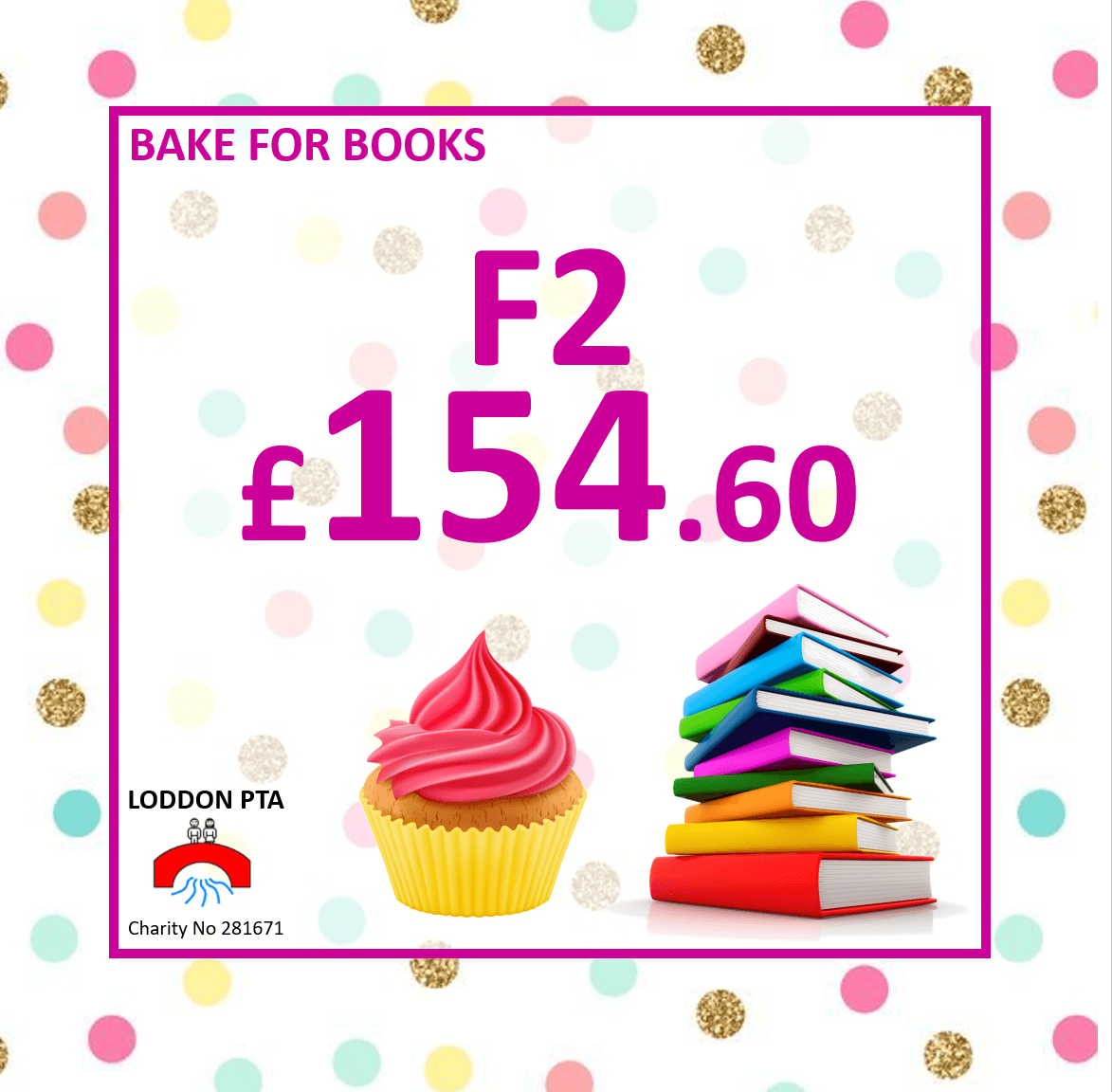 Thank you to everyone who supported the second "Bake for Books" sale today, organised by F2 reception parents. A fantastic £154.60 was raised towards books. The children and teachers will choose what books are purchased at the February inset day.
The next sale depends on you!
If you'd like our support to help you run a "Bake for Books" sale for your child's year group (in January, or later in the year), just get in touch. We plan to only schedule one sale per calendar month and sales will be agreed on a first come, first served basis.
Drop an email to pta@loddon.wokingham.sch.uk to enquire.
23 November 2019 – Co-op invited Loddon PTA to their Big Payout event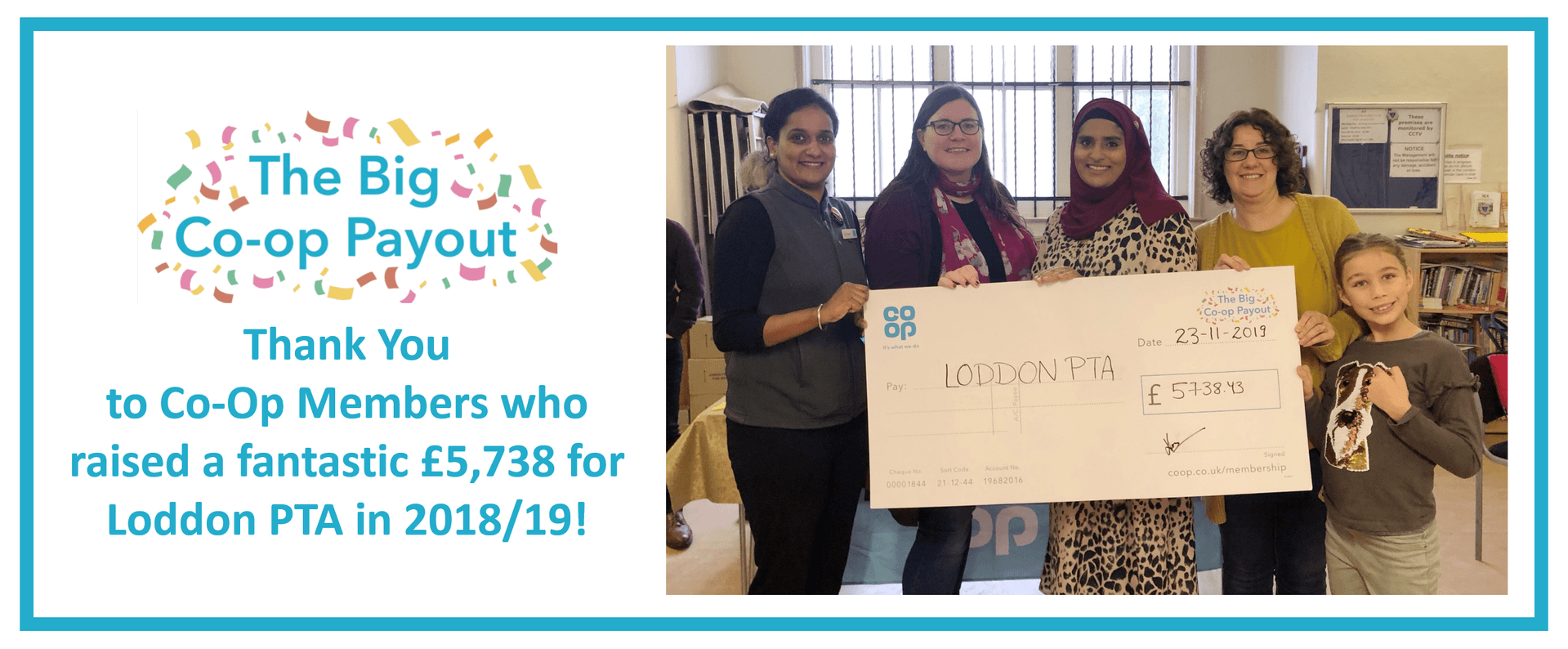 We were invited by Co-Op to celebrate their community causes fundraising at their "Big Payout" event. Representatives from many local stores were there along with other charities who benefited from Co-Op's support last year. We were very pleased to receive our cheque for £5,738 for funds raised October 2018 to October 2019. This was presented to members of the current and previous PTA committee. A big thank you to all the Co-op members who supported our fundraising.
We are very pleased to have been selected by Co-Op again for 2019/20 fundraising. More details on how you can become a Co-op member and support us can be found on our cashback fundraising page [link] [please can we add a hyperlink to https://www.loddonprimary.co.uk/pta/pta-cashback-fundraising]
22 November 2019 – Autumn Disco raises almost £1,500
We hope the children enjoyed their first PTA disco of the year. Thanks to everyone who helped volunteer on the night and all the children who came along to help make this one of our biggest disco attendances to date. The final count is now in and we made a record £1,4779.87 profit.
25 October 2019 – Bake for Books raises £171.86 for Year 1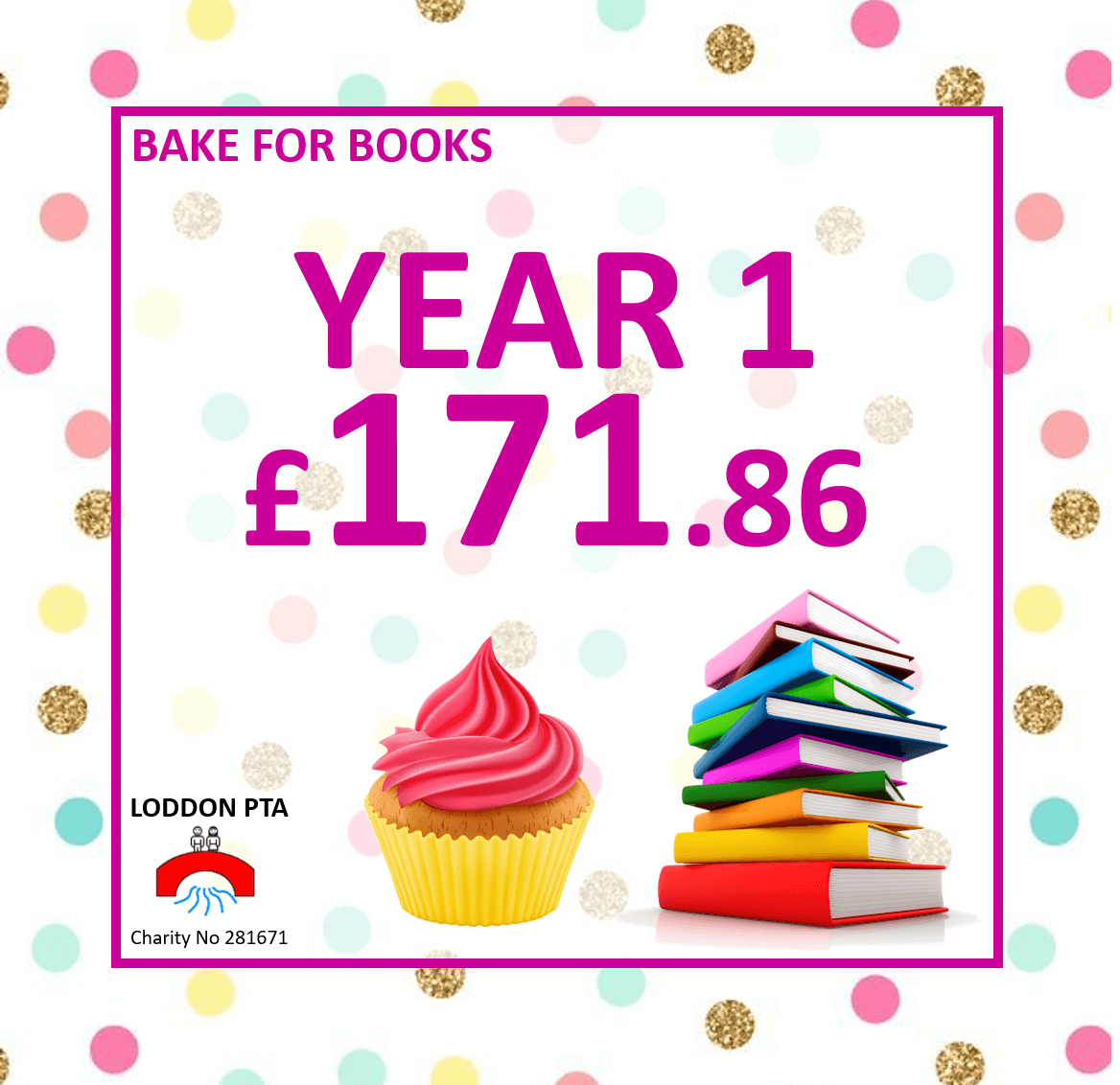 Thank you to everyone who supported the first "Bake for Books" sale today, organised by year 1. A fantastic £171.86 was raised towards books. The children and teachers will choose what books are purchased - Watch this space to see what they choose.
The next sale is at the end of November to be organised by F2 Reception. If you're interested in running a sale for your children's year group in 2020 get in touch with the PTA.
25 October 2019 – Co-Op Community Causes extended for another 12 months
Almost £2,700 has been raised for Loddon PTA in the 2018/19 scheme which ends tomorrow. Thank you to all the Co-Op members who have selected to support the LoddonPTA cause. We appreciate your support. [Update: Final total from Co-Op is now £5.7k after allocation of other local supporters]
We are pleased to announce that LoddonPTA has been selected again for funding through the Co-Op Community Causes for 2019/20 so you can continue to support us for the next 12 months.
1% of what Co-Op members spend on Co-Op branded goods goes towards community causes. Members just need to login to their accounts and choose which cause to support. More details on our cashback page
18 October 2019 – Bingo Night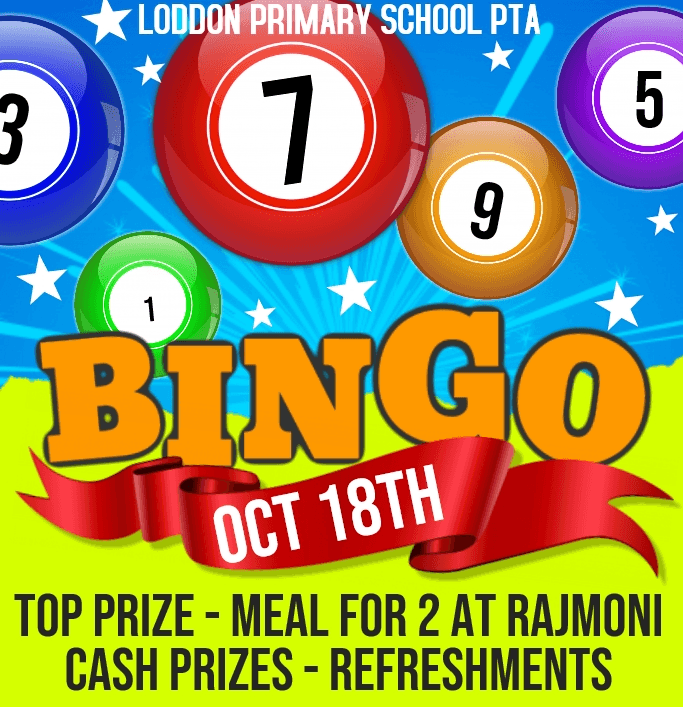 Eyes down! Thanks to everyone who came to our first family bingo night. It was a great atmosphere and the PTA hope to run another event in the new year. A fantastic £265 was raised for the PTA!
Thanks to Katie Richardson for organising this event on behalf of the PTA and also to Rajmoni restaurant for donating our top prize.
If you'd like to run a fundraiser for the PTA we'd love to hear from you. Please get in touch.
8 October 2019 – Terracycle Crisp Packet Recycling Scheme
We are pleased to announce that we have been accepted onto the TerraCycle Crisp Packet Recycling Scheme.

You can recycle your clean, empty crisp packets by bringing them into School (in the Parent Hut in designated times). The Scheme is being run on behalf of the PTA by Rachel Cripps. For more details see our cashback fundraising page
23 September 2019 - AGM
Thank you to everyone who attended the 2019 AGM. We are pleased to announce that we raised over £17,000 in 2018/19 and look forward to building on this in 2019/20. Thank you to the 2018/19 committee who stood down at this meeting for their efforts last year.
The new 2019/20 committee are;
Saaima ASHRAF (Chair), Sarah ANSTEY (Treasurer), Kam BHOGAL, Chris POSTON, Joy JARVIS, Sarah PHILLIPS, Katie RICHARDSON, Rai RICHARDSON (Secretary), Amanda RUTHERFORD, Rachel SHAW, Mora YANG
3 July 2019 - Summer Fair - Total Raised
Drum roll please…… The PTA are proud to announce that the Summer Fair and Raffle have raised a truly fantastic sum – over £4,100. This is a phenomenal sum and will go back to the school to directly benefit the children. [Update: Final total raised was £4,303]
Huge thanks again to everyone who volunteered, donated, sponsored, attended and supported the 22 June event in any way – this could not have been achieved without your support!
17 June 2019 – Summer Disco update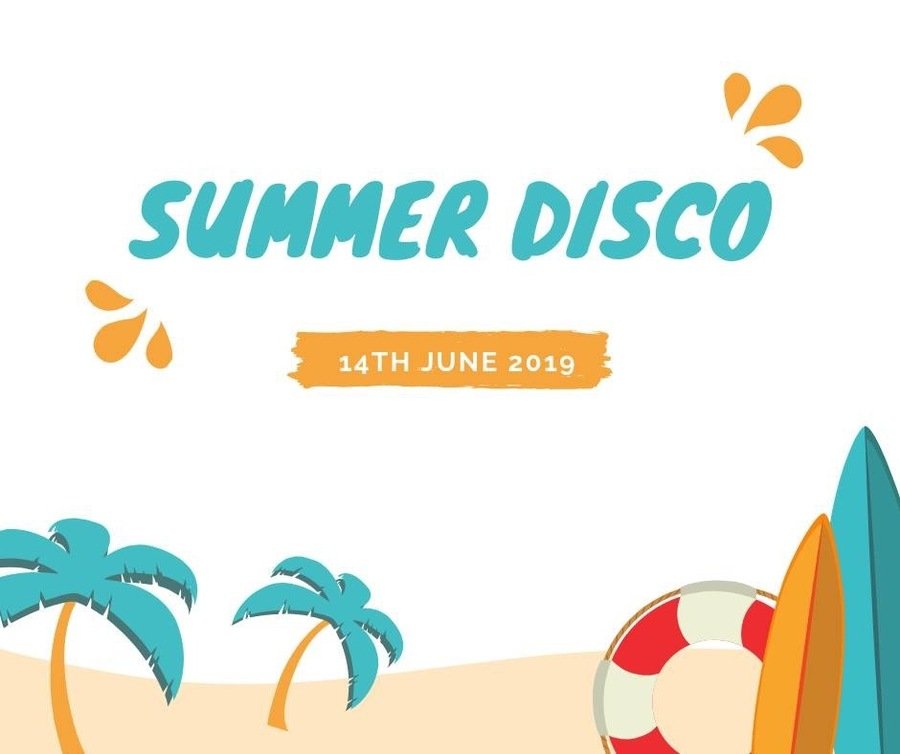 We hope your children enjoyed a sunny Summer Disco, particularly those in F2 and Y3 enjoying their first time at a new disco event. Thank you to those who attended and volunteered – you have helped raise a record £1,403 at the Summer disco bringing the disco total for the year to an amazing £3,891. Thank You!
10 June 2019 - Miss Millard Sponsored Swim at the Great North Swim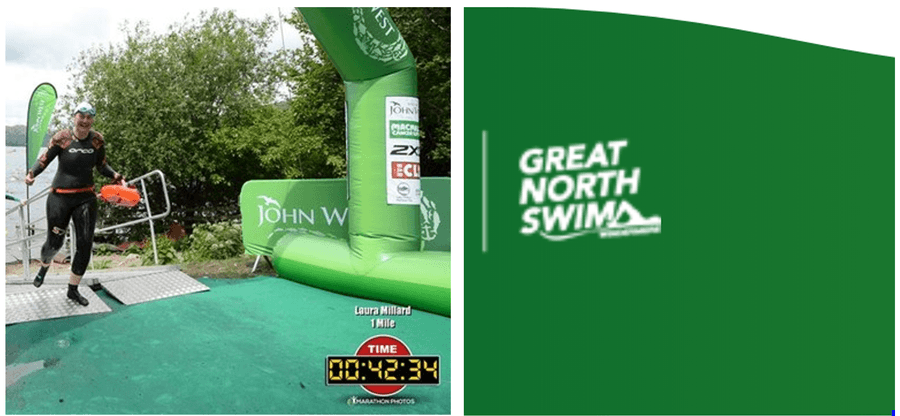 Huge congratulations to Miss Millard for completing the Great North Swim at the weekend in a superb 42:34 minutes! Full details on her JustGiving page (https://www.justgiving.com/fundraising/lauramillard2019).
Thank you to Miss Millard for raising a fantastic £490 in online and offline donations for the PTA!
16 May 2019 – PTA Update on funds spent in school
Thank you to everyone who supports the PTA by donating time, resources, help and taking part in our events.
You'll no doubt have seen that the long-awaited Pirate Ship and playground project has been completed. The newly installed large pirate is the final of three (previous ones installed last year in foundation and Y1 outdoor play areas). This project has been over two years in the making, funded by the PTA and supported by countless numbers of you to raise that money. We're very pleased to see the children enjoying the new equipment.
Earlier this month the children in F2 got to experience a week with "Living Eggs" and met 8 beautiful little chicks. This activity fits into their Growth and Change topics and is fully funded by the PTA.
At our committee meeting on 1st May the PTA agreed to fully fund the upcoming School Council Dining Room project and also golden time resources for each class in KS1 and KS2.
If you're interested in fundraising for the PTA or joining the committee to organise events, we'd love to hear from you. Please do get in touch. Email pta@loddon.wokingham.sch.uk