Announcement of National Lockdown from tomorrow 5th January 2021
Sent By: Mrs Sarah Phillips
Sent 04 Jan 2021 20:58
Dear Parents/Carers,
This evening it has been announced that from tomorrow there is a national Lockdown and that schools must move to remote education for all pupils except those of critical workers and vulnerable children.
From tomorrow, until further notice, you should only bring your child to school if they are in one of the above groups all other children should remain at home and access remote education. A list of who would be deemed as critical workers and vulnerable children is available at this link. https://www.gov.uk/government/publications/coronavirus-covid-19-maintaining-educational-provision/guidance-for-schools-colleges-and-local-authorities-on-maintaining-educational-provision#vulnerable-children-and-young-people
Key worker and vulnerable children should attend school tomorrow at the usual time for their year group. The plan for tomorrow's on-site provision is as follows:
Nursery and the Nest children to the Nursery classroom (Mrs Bovingdon/Mrs Qureshi)
Reception children to Hedgehogs and Moles classroom (Mrs Guy/Mrs Whiteman)
Year 1 Starfish classroom (Mrs Henderson/Mrs Sangha)
Year 2 Stingrays classroom (Mrs Rutherford/Mrs Scherer)
Year 3 Meet on playground then to Wyvern (Miss Perrin/Mrs Siddiqi)
Year 4 Meet on Playground then to Bennu (Mr Holloway/Mrs Fowler)
Year 5 Meet on Playground then to Kites (Miss Wadey/Mrs Bragg)
Year 6 Eagles classroom (Mr London/Mrs Townsend)
Please note that a form will be sent home tomorrow for all families to officially register for essential worker/vulnerable child provision. You may attend site tomorrow if you believe you qualify even without having returned that form. However, you will be required to complete this if you are to continue to access on-site provision during the rest of Lockdown. (You do not need to chase this form with the office unless you have not received a form by the end of school tomorrow.)
For all other children, remote education will start tomorrow in line with our published remote education offer.
https://www.loddonprimary.co.uk/curriculum/remote-education
Further information will follow this week so please keep an eye out for further school communications.
Thank you for your understanding during these challenging times.
Kind regards,
Sarah Phillips
Headteacher
Latest News
FW: Announcement of National Lockdown from tomorrow 5th January 2021
Further Articles »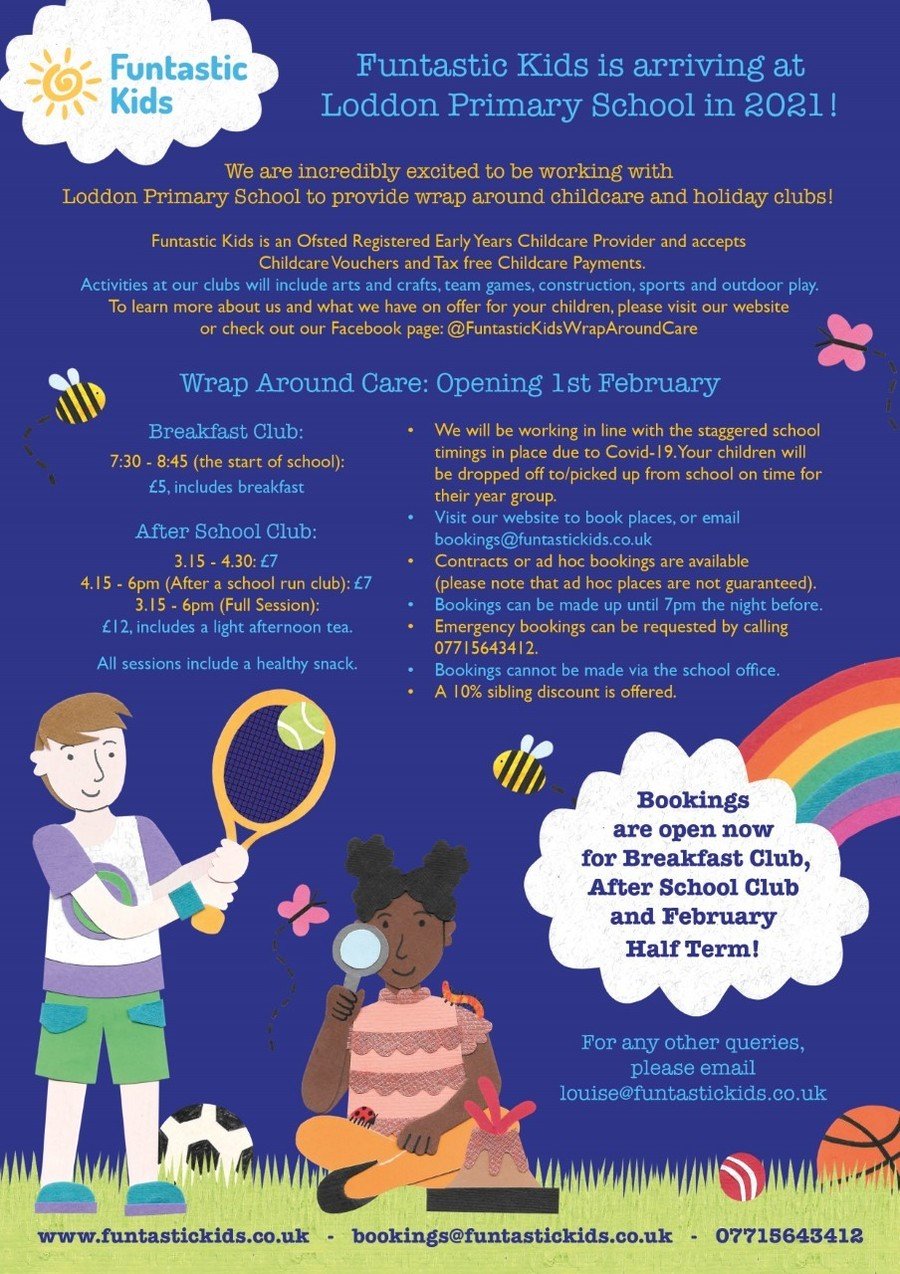 18/12/2020
Launch of Funtastic Kids wrap around care and holiday offer at Loddon
19/10/2020
Loddon Out of School Club has notified us that they intend to cease trading. A letter outlining next steps for onsite childcare can be found in the Letters to Parents/Whole School section and has also been forwarded via Parentmail.
03/09/2020
So pleased to welcome our children back to school.
Please remember to keep to the staggered start and finish times and as adults to social distance when on site.
Please also respect the one adult per family site rule.
Thank you for your co-operation.